BUY THIS BOOK
Available at Amazon.com and at all major book venues globally in softcover format.
Click HERE!


REVIEWS


"I love it! This is one of the best books I have ever read. Anyone could pick it up and enjoy it."

GILLIE BRAY
Somerset, UK

"Your unique storytelling is like a walk back through time. Very fun to read. Brings back lots of memories!"

DAN ROHRET
McPherson, Kansas USA

"An adventure-filled autobiography packed with humor and humility. Full of inspiring, relatable, and fun life experiences."

LING LAM
Sunnyvale, California USA

"If you're lucky enough to meet Fred Stawitz you'll know this: here's someone with a story. Many stories in fact. And he uses these stories to enlighten and entertain. And he has shared a lot of his intriguing stories in this book.

IAN HAWKINS
London, UK


SPEAKING ENGAGEMENTS

To request the author for a speaking engagement including conferences, seminars, podcasts, radio or TV interviews, please contact: Fred Stawitz via email at fred@storymakersinc.com.


BOOK DETAILS

ISBN: 9798985635539
PUBLISHER: Storymakers, Inc.
PUBLICATION DATE: September 11, 2023
PAGE COUNT: 714
FORMAT: softcover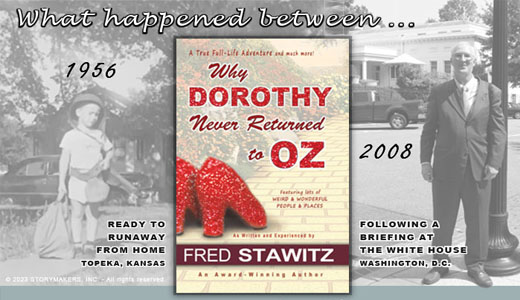 Why Dorothy Never Returned to Oz
A true full-life adventure featuring lots of weird and wonderful people and places. Written as experienced and remembered by the author. This unique story focuses on four years of on-the-road travel as a cross-country truck driver including all the unusual, absurd, crazy, frightening, and fantastic situations the author encountered, never knowing what was over the next hill or just around the next corner.
It also includes all the craziness of his childhood and teen years that prepared him for this adventure including 16,000 miles of hitchhiking across America and several months experiencing Europe while living out of a backpack.
This nontraditional narrative highlights the benefits and challenges of an insatiable curiosity about learning how the world works and often doesn't work to our satisfaction. This combined with the tendency to welcome a full range of opportunities and the desire to make the best of them has resulted in an unquestioningly rewarding, if not phenomenal career path and set of life experiences that will capture your attention, make you laugh, and prompt you to wonder about your life.

TABLE OF CONTENTS
1 - How It All Started
2 - Big Wheels Rolling
3 - 1977 Journal Entries
4 - 1978 Journal Entries
5 - 1979 Journal Entries
6 - 1980 Journal Entries
7 - 43 Years Later!
About the Author
Lyrics Index
Image Index

PHOTOGRAPHS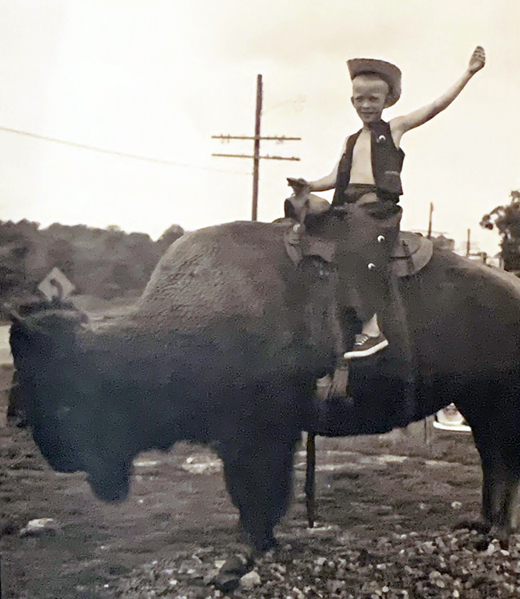 Author as a child riding a realistic buffalo statue bareback.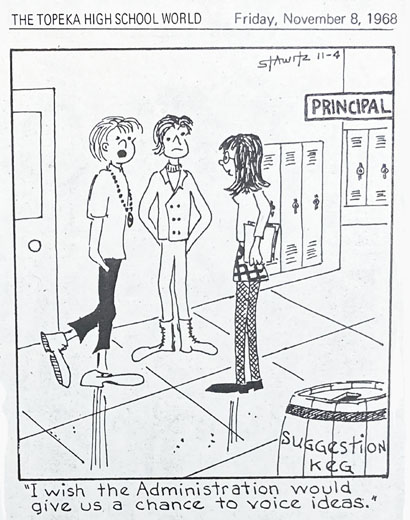 "Suggestion Keg" Ink drawing by the author published in the Topeka High School World on November 8, 1968.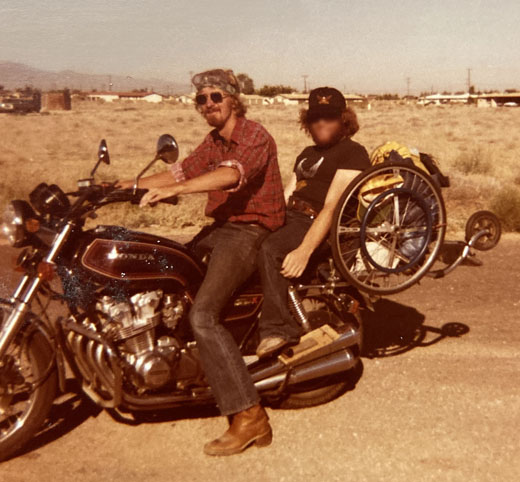 Author on his motorcycle with T-Bop and his wheelchair in Vacaville, California.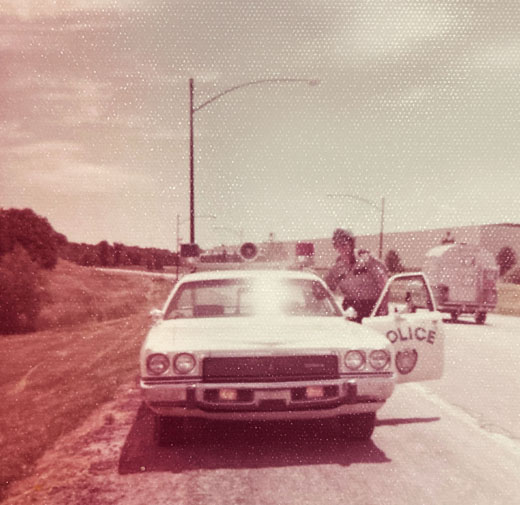 Police officer confronting author on shoulder of highway.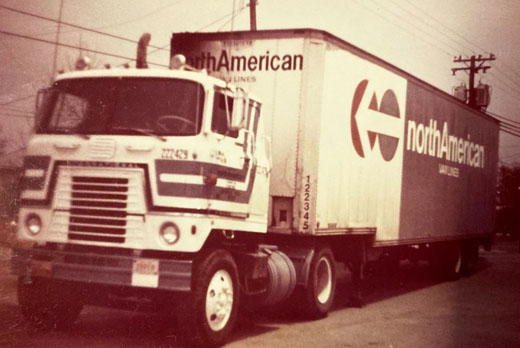 Author's truck and trailer.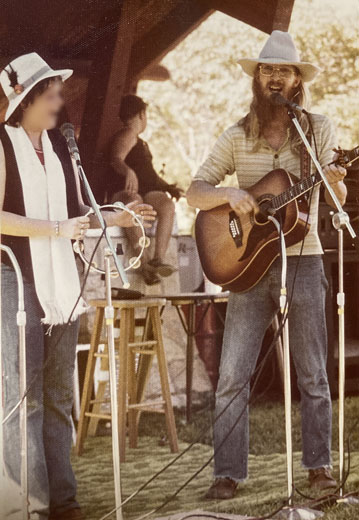 Stella and author performing at event in support of the Manhattan Zoo in Manhattan, Kansas.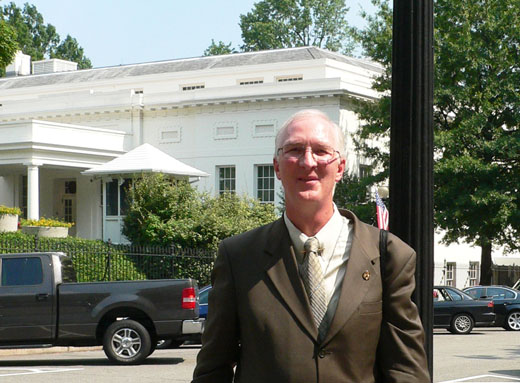 Author outside the West Wing of The White House in Washington, D.C. following a special briefing by the George W. Bush Administration.

ABOUT THE AUTHOR
Fred Stawitz researches, writes, speaks, and consults on:
Mastering the challenge of successfully implementing disruptive, emergent technologies
Driving high-levels of employee engagement
Shaping a corporate culture that promotes safe, productive, and sustainably profitable operations
A popular international speaker, he has been featured on CNN Headline News, a PBS special program, TV news/talk shows, nationally syndicated radio programs, business meetings, conferences, and quoted in a Special Congressional Quarterly Report.
As an experienced program development manager, he has more than fifteen years of expertise in successfully designing, implementing, and managing programs that maximize safety and productivity while ensuring regulatory compliance.
He was recruited to design and implement the first technical training program for the US Space Shuttle Program (United Space Alliance) following the Challenger explosion. He also produced online training and desktop simulations for the astronauts.
He developed training and regulatory compliance programs for InterGen (Shell/Bechtel joint energy venture) and developed the in-house capability for delivering online training and video production for El Paso Natural Gas Pipeline (largest pipeline company in America).
He is a recipient of:
Leadership 500 LEAD Award (a global honor presented by HR.com)
National Education Association A+ for Excellence in Education Award
NASA and the National Science Teachers Association National Honors Teaching Award
And more!
He served as judge of the Diversity Value Index Benchmark & Awards Program as well as judging numerous writing competitions. He has received several awards for writing. He penned and produced the award-winning stage play Soldier Mom.
He is currently the CEO of Storymakers, Inc., a specialized publishing operation.
Stawitz graduated from Washburn University with dual degrees in mathematics and computer science backed by a minor in foreign languages.

Copyright 2014-2023 StoryMakers, Inc. - All rights reserved.
Send comments or questions regarding this web site to Webmaster@storyMakersInc.com.