BUY THIS BOOK
Available at Amazon.com and at all major book venues globally in softcover and eBook formats.
Click HERE!


GALLERY

To veiw a slide show of images
relevant to this book
Click HERE!


REVIEWS


"Must-read for new managers."

LYNDSAY GRANT
Chief Marketing Officer, 7Nine Enterpreise Management Corp.

"An indispensible leadership resource that everyone can use."

BOB L. ZIMERING, Ph.D.
Director, Lockheed Martin

"Tamica Sears took her personal experiences and turned them into lessons for leaders (if they would read and understand) I read it in one sitting while jumping up and down and clenching my fists. I saw so much of myself through her experiences. Toxic leadership affects everyone in negative ways and it needs to change. Thank you for sharing and letting us know we are not alone."

RYAN R.
posted on Amazon.com

"A must-read for every good or bad boss out there! The book is so well written with observations supported by the author's first-hand experiences, which I found fun and engaging. I just ordered a second book to gift a friend!"

JOE A.
posted on Amazon.com

"Real talk. The only shame in the game is if you aren't willing to hear it and this book DELIVERS. Highly relatable, fair, humorous and full of the reminders and reflections that inspire change, this book is for those emerging or expanding into leadership positions, who need a gut check, or are finally willing to accept the old school/my way is truly tanking their career."

LONNI L.
posted on Amazon.com

"As easy and enjoyable to read as it is impactful and valuable to anyone in leadership and anyone who aspires to be effective in leadership. Light hearted yet profound, jam packed with practical take aways. As a minority woman, Sears is uniquely positioned to speak to issues that have been egregiously ignored but aren't going away and clearly brings decades of real insight and hard-won perspectives from both sides of the HR desk to this book. A gem."

KRISTY SAYER
posted on Amazon.com


SPEAKING ENGAGEMENTS

To request the author for a speaking engagement including conferences, seminars, podcasts, radio or TV interviews, please contact: Tamica Sears via email at tamica@searscoaching.com.


BOOK DETAILS

ISBN: 9780988807983
PUBLISHER: Storymakers, Inc.
PUBLICATION DATE: February 28, 2022
PAGE COUNT: 206
FORMAT: softcover, ebook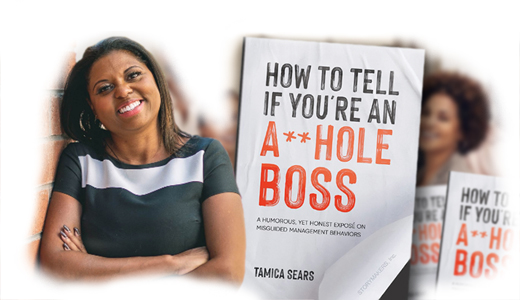 How To Tell If You're An A**Hole Boss
A humorous, yet honest exposé on misguided management behaviors. Certified Executive and Leadership Development Coach Tamica Sears walks readers through a self-discovery process that will improve their career as a leader by taking a look at what it takes to be a good manager. Applicable to professionals at all organizational levels, this work captures the author's unabashed style of confronting problematic situations head on while sharing lessons learned over her 20 years of working with Fortune 500 companies in multiple industries.

TABLE OF CONTENTS
Acknowledgement
Disclaimer
Introdution
Clue #1 - You Enter A Room, And People Stop Talking
Clue #2 - You Don't Know Much About Your Employee's Lives
Clue #3 - Your Employees Seem Pissed Off All The Time For No Reason
Clue #4 - Your Productivity Is Way Down
Clue #5 - Your Employees Call In Sick ... All the Time
Clue #6 - Your Employee Turnover Continues To Increase
Clue #7 - Your Employees Knock (or don't knock) On Your Door
Clue #8 - HR Is Constantly On Your Back
Clue #9 - It's Your Way Or The Highway
Clue #10 - Everyone Is Promoted At Work But You
Closing - Move Over A**Holes; There's A New Leader In Town
Bonus Content - Ask Me Anything
About the Author


MEDIA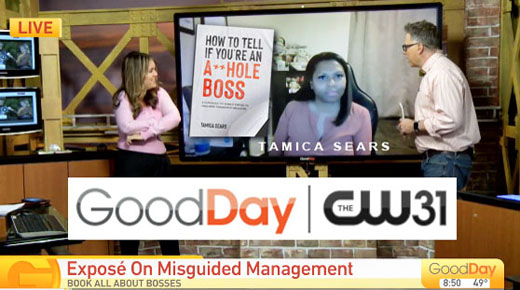 ABOUT THE AUTHOR
Tamica Sears, The Corporate Fixer, is a Human Resources professional with over 20 years of experience working with Fortune 500 companies in multiple industries. She helps leaders navigate the shifting landscape of corporate America and learn to motivate and inspire the people around them to transform their organizations into more inclusive and innovative places to work. She has guided organizations through mergers and acquisitions, organizational restructures, strategy sessions, succession planning, and creating and implementing leadership development programs. She is a certified Executive and Leadership Development Coach with a PCC accreditation from the ICF and a record of success in serving clients.
Identifying self-esteem as a common issue with many leaders, Tamica published You Are Enough, a book of motivational quotes designed to increase self-esteem in 30 days. She has been a guest on numerous podcasts, led workshops, and spoken at conferences about leadership development; diversity, equity, and inclusion; the future of work; personal branding; and self-awareness.
Tamica provides HR Consulting and Executive Coaching for small businesses, helping leaders become better equipped to transform organizational cultures to be more innovative and inclusive while enabling their teams to be more responsive to changes in the environment and be more engaged and productive. She loves working with HR teams to help them become value-added business partners, rather than administrative compliance cops.

Copyright 2014-2023 StoryMakers, Inc. - All rights reserved.
Send comments or questions regarding this web site to Webmaster@storyMakersInc.com.