BUY THIS BOOK
Available at Amazon.com and at all major book venues globally in softcover and eBook formats.
Click HERE!


GALLERY

To veiw a slide show of images
relevant to this book
Click HERE!


REVIEWS


"Solid, logical, clear ideas. Relevant to folks in various walks of life."

GENERAL (RET.) DAVID H. PETRAEUS
Director, CIA, and Commander, U.S. Forces Afghanistan

"Boots in the Office is an easy but deeply insightful read that guides you through the complex and demanding environments of civilian occupations without scrambling your brain."

CASSANDRA WATERS BRUSIE
88M Platoon Leader/Sergeant, 2006-2014, United States Army Reserves

"I've never read a book or attended a class that helped me more with work related issues than Boots in the Office."

DEREK DAVIDSON
Submarine Forces, 1981-1996, United States Navy (Ret.)

"Boots in the Office is rich with strategic approaches that can benefit anyone during the transition from the structured military standards of practice to the often unpredictable environment of the corporate or non-defense world. I only wish I had access to this book during the early years of my career."

LEE G. WILLIS
Emergency Management Superintendent, 1986-2016, United States Air Force Reserves

"Boots in the Office helped me develop a more effective perspective of how I view my job. I know now that I must find balance between my preset military attitude and the entitlement of the non-military workforce."

DEANNA OTTS-WHITFIELD
Operation Iraqi Freedom, 2003-2004, United States Marines

"Boots in the Office offers practical approaches, if applied, to help you navigate the civilian work environment and succeed. Fred offers help in the form of sage advice on reflection, countermeasures, and creating an effective path to being a contributing member of the civilian workforce. Read, absorb, employ, and enjoy. You got this!"

LEILANI CALE-JONES
Deputy Master Cheif of the Coast Guard, Coast Guard Headquartes, United States Coast Guard


SPEAKING ENGAGEMENTS

To request the author for a speaking engagement including conferences, seminars, podcasts, radio or TV interviews, please contact: Fred Stawitz via email at fred@storymakersinc.com.


BOOK DETAILS

ISBN: 9780988807938
PUBLISHER: Storymakers, Inc.
PUBLICATION DATE: January 21, 2019
PAGE COUNT: 364
FORMAT: softcover, ebook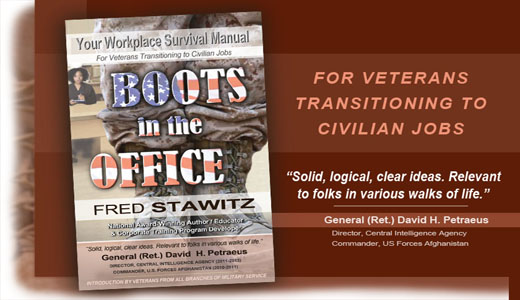 Boots in the Office
Boots in the Office speaks to the many veterans who following their proud and valiant service to their country may be challenged with transitioning from military service to the corporate sector. This book takes the military approach of quickly assessing your environment, determining the resources at your disposal, and formulating a plan for mission success.
In the workplace, this means:
Quickly figuring out the dynamics and key players in the work environment
Determining the skills, network, and other resources you need to do that job which may include insulating yourself from the negative impacts of office politics
Creating a plan for success
Includes introductions written by members of the United States Army, Navy, Air Force, Marines, and Coast Guard who found this book to provide useful guidance in transitioning to and working within the corporate sector.
Penned from a worker's perspective by an award-winning author/educator and experienced corporate training manager with contributions from a veteran job recruiter, Boots in the Office explains key factors that shape workplace dynamics and provides a comprehensive set of tools that people in all lines of work and at all levels can employ to reduce frustration and leverage more control over their professional lives.

TABLE OF CONTENTS
Acknowledgements
Introduction
Cassandra Waters Brusie, United States Army
Derek L. Davidson, United States Navy
Lee G. Willis, United States Air Force
Deanna Otts-Whitfield, United States Marines
Leilani Cale-Jones, United States Coast Guard
1 - Taking Charge of Your Professional Life
2 - Seeking a Path to Success
3 - Deciding to Stay and Prevail
4 - Indentifying Your Workplace Environment
5 - Surviving in an Antagonistic Environment
6 - Maintaining in a Contentious Environment
7 - Progressing in a Benign Environment
8 - Thriving in a Supportive Environment
9 - Leveraging Control in Any Environment
10 - Reinforcing Your Foundation
11 - Strengthening Your Image
12 - Assuming Responsibility with Less Risk
13 - Using Documentation to Your Advantage
14 - Recognizing Traps and Manipulation
15 - Establishing Your Workplace Survival Plan
Appendix A - Workplace Survival Plan and Checklist
Appendix B - Sample Workplace Survival Plans
Appendix C - Traps and Manipulation Techniques
Appendix C - Quick Reference Charts
About the Author

ABOUT THE AUTHOR
Fred Stawitz researches, writes, speaks, and consults on:
Mastering the challenge of successfully implementing disruptive, emergent technologies
Driving high-levels of employee engagement
Shaping a corporate culture that promotes safe, productive, and sustainably profitable operations
A popular international speaker, he has been featured on CNN Headline News, a PBS special program, TV news/talk shows, nationally syndicated radio programs, business meetings, conferences, and quoted in a Special Congressional Quarterly Report.
As an experienced program development manager, he has more than fifteen years of expertise in successfully designing, implementing, and managing programs that maximize safety and productivity while ensuring regulatory compliance.
He was recruited to design and implement the first technical training program for the US Space Shuttle Program (United Space Alliance) following the Challenger explosion. He also produced online training and desktop simulations for the astronauts.
He developed training and regulatory compliance programs for InterGen (Shell/Bechtel joint energy venture) and developed the in-house capability for delivering online training and video production for El Paso Natural Gas Pipeline (largest pipeline company in America).
He is a recipient of:
Leadership 500 LEAD Award (a global honor presented by HR.com)
National Education Association A+ for Excellence in Education Award
NASA and the National Science Teachers Association National Honors Teaching Award
And more!
He served as judge of the Diversity Value Index Benchmark & Awards Program as well as judging numerous writing competitions. He has received several awards for writing. He penned and produced the award-winning stage play Soldier Mom.
He is currently the CEO of Storymakers, Inc., a specialized publishing operation.
Stawitz graduated from Washburn University with dual degrees in mathematics and computer science backed by a minor in foreign languages.

Copyright 2014-2023 StoryMakers, Inc. - All rights reserved.
Send comments or questions regarding this web site to Webmaster@storyMakersInc.com.