BUY THIS BOOK
Available at Amazon.com and at all major book venues globally in softcover and eBook formats.
Click HERE!


GALLERY

To veiw a slide show of images
relevant to this book
Click HERE!


REVIEWS


"The publication is comprehensive, informative, educative, insightful, and a recommended required reading for media practitioners ... this book is worth more than its price."

EMEKA ONODUGO
Business Manager, Chi Pharmaceuticals Ltd. - Lagos, Nigeria

"Our author is at home in both the conventional and the new media, and the reader will benefit immensely from her wealth of exposure."

VINCENT I. MADUKA
Retired Director-General, Nigerian Television Authority - Lagos, Nigeria

"Influence of Media on Public Health is a great addition to the armamentarium of the public health practitioner ... this book is a must read!"

HON. NZE OGOCHUKWU VINCENT OKPALA, M.D.
Commisioner for Health - Anambra State, Nigeria


SPEAKING ENGAGEMENTS

To request the author for a speaking engagement including conferences, seminars, podcasts, radio or TV interviews, please contact: Mary-Jane Ilozor via email at maryjaneilozor@yahoo.com.


BOOK DETAILS

ISBN: 9780988807990
PUBLISHER: Storymakers, Inc.
PUBLICATION DATE: April 15, 2022
PAGE COUNT: 178
FORMAT: softcover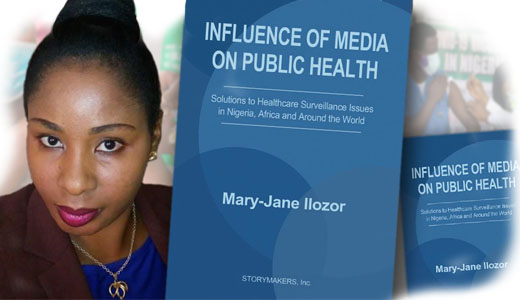 Influence of the Media on Public Health
Influence of Media on Public Health provides solutions to healthcare surveillance issues in Nigeria, Africa, and around the world. It is directed towards achieving standard media representation and support in compliance to journalists' obligations in tackling public healthcare. Most references are Nigerian sources and are digested to a simple English language for clarification and easy comprehensibility for all readers, especially the tertiary institutions in media practices, post graduates, and researchers. Media professionals as the major target audience need the reformations recommended in this book for more impacting services while protecting masses' interest in preserving healthy lives.
This well-researched, documented, and endorsed work addresses an examination of Nigerian print media on its healthcare surveillance role, the influence of media campaign on positive healthcare behavior change and social transformation, and the media and journalists' role of surveillance in healthcare communications. Key issues and recommendations are addressed in detail for each of these areas of public interest with application beyond the national boundaries of Nigeria.
Healthcare communication is everyone's responsibility, but professionally the media, government, healthcare givers or organizations (both international and local) are expected to keep updating the masses on ways of improving good healthy livelihood. To achieve this obligation, there is much dependency on the media as the intermediate institution, between both healthcare institutions/government and the public. Media, as the Fourth Estate of the Realm, has the mobilizing power which is backed with government policies in implementing healthcare provisions and recommendations for preventing pandemic, outbreak, infection, and other forms of diseases.

TABLE OF CONTENTS
Acknowledgement
Foreword
Introduction
1 - Examination of Nigerian Print Media on Its Healtcare Serveillance Role
Overview
Factors Responsible for Content Imbalance
Recommendations
2 - Influence of Media Campaign on Positive Healthcare Behavior Change and Social Transformation
Overview
Social Problems targets with Media Campaigns
Recommendations
3 - Media and Journalists Role of Surveillance in Healthcare Communication
Overview
Basic Roles of Healthcare Journalists and Problems Identified
Recommendations
About the Author
Glossary
Rreferences

MEDIA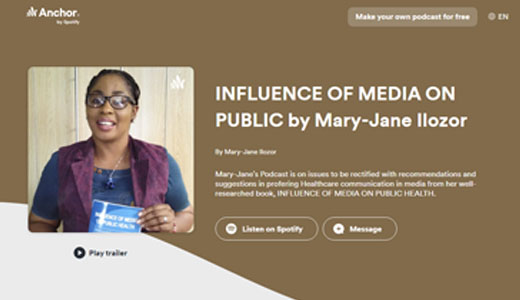 https://anchor.fm/mary-jane-ilozor

ABOUT THE AUTHOR
Mary-Jane Ilozor is an author, speaker, communications expert, TV producer, and freelance journalist. She owns and operates Digital Alliance Ltd., a leading ICT systems integration company which she founded in 2010 focusing on delivery of enterprise ICT solutions, cyber security and services, and creative content to small, medium, and large-scale businesses in Nigeria and Africa.
She obtained her first degree in English Language and Literature at Nnamdi Azikiwe University (UNIZIK) and also earned master's degrees in English Literature from University of Lagos as well as in Media and Communications from Pan-Atlantic University. Her study of English literature covered classic essays by Plato and Aristotle to medieval classics of Shakespeare to the modern writings of Martin Luther King, Jr. and Maya Angelo, as well as the contemporary works of Chinua Achebe, Emecheta, Wole Soyinka, J.P. Clarks, Chimamanda Adichie and others.
She highlights her passion for elevating public health and well-being by having focused one of her master's case studies on the link between public health and timely, accurate media communications. The findings of that research serve as the basis for her first book, Influence of Media on Public Health: Solutions to Healthcare Surveillance Issues in Nigeria, Africa and Around the World.
As an experienced information and communications technology (ICT) sales professional with over six years of experience in the industry and over nine years of experience as a communications expert, Mary-Jane Ilozor is a talented writer/researcher with a consultative and methodical approach towards achieving results. Her professional growth is motivated by a focused and holistic approach to improving business value and performance backed by her wealth of business acumen and continuing educational journey.

Copyright 2014-2023 StoryMakers, Inc. - All rights reserved.
Send comments or questions regarding this web site to Webmaster@storyMakersInc.com.